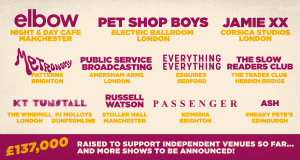 FAQs | Terms and Conditions | Postal Entries
Big Artists. Small Gigs. Making a Huge Difference to Independent Grassroots Venues.
Passport: Back to Our Roots is a nationwide series of one-off intimate gigs by the UK's biggest artists, supporting the independent grassroots venues that form the foundations of the UK's live music scene.
Thank you so much to all of you that have donated and entered the prize draws so far. Your donations have raised over £137,000 for independent grassroots music venues across the country, and these funds are helping keep your favourite local venues afloat for when live music returns.
As many of you will know, while there is light at the end of the tunnel, live music is still a little way off. We're working hard to schedule the Passport: Back to Our Roots shows for as soon as we can hold them – without social distancing. We had hoped for this to be Spring 2021, but this is now not likely.
We have another block of shows ready to announce – and as soon as we have a clearer idea of when restrictions can be loosened and these shows can be booked into the venues without re-re-scheduling, we'll share the news. Stay safe, stay tuned, and here's to a hopefully brighter 2021.
"Thanks to the thousands of supporters of Passport: Back to Our Roots that have already taken part, we made it through to the end of 2020 with the very bare minimum of permanent venue closures. In 2021, venue still need your support to ensure that we reopen every venue safely. Please keep sharing, and please keep taking part in the prize draws for some absolutely outstanding, once in a lifetime events." – Mark Davyd, CEO, Music Venue Trust
A full list of winners from previous rounds is available on request – please email
[email protected]
About Passport: Back to Our Roots
This is your chance to watch the biggest artists play their smallest gigs – live and in person like they should be – while making a huge difference to the UK's crisis-stricken grassroots music venues, who need urgent help due to COVID-19 closures.
The gigs will be happening as soon as real shows can happen safely – these are not socially distanced experiences. Fundraising campaigns for each event will be open for two weeks, and at the end of each campaign, all proceeds go to support venues in need, right now.
How Does it Work?
Major artists support the venues that provide a crucial platform as the first rung on the UK's world-renowned touring circuit, championing the fundraising campaigns and pledging to 'return to their roots' by playing a show at their chosen grassroots venue at a point in the future when 'normal service' can resume for live music.
These shows are not live-streamed from an empty room or held under 'social distancing' conditions.
Rather, they are a celebration of the unrivalled experience of watching your favourite artist in a room full of friends and fellow fans – as it should be.
This means that all gigs are 'date TBC'. They will happen when it's safe for gigs to happen properly, as soon as we can. We know this seems a long time to wait. But we need to raise funds right now, to help the grassroots music venues we all love.
How can I buy a ticket?
The first rule of Passport: Back to Our Roots is…THERE ARE NO TICKETS. We're asking you to support your favourite venues by making a £5 minimum donation to the campaign. Participating artists and venues will be announced in blocks – you can find details on our Crowdfunder page here.
Everyone who donates will be entered into a prize draw to win entry for themselves and a friend. No tickets means NO TOUTS! Winners will need to bring photo ID – such as their passport – in order to gain entry.
How can I donate?
Gigs will be announced in blocks. Visit our Crowdfunder page to see more.
Can I donate without entering the prize draw?
Yes! Simply select 'I don't want to enter the prize draw' when you make your donation.
Can I enter the prize draw without making a donation?
Yes, you can enter for free by post. Details will be announced before the campaign opens.
Passport: Back to Our Roots is produced by registered charity and independent grassroots venue Band on the Wall, the Music Venue Trust and Stephen Budd Music (creator of War Child's Passport: Back to the Bars & Passport: To BRITs Week series).
Follow us:
Contact: General Enquiries / Press / Marketing & Partnerships